Description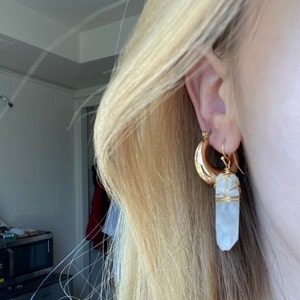 Gorgeous small size Angel Aura Crystal dangle earrings in gold, silver, or rose gold. Healing quartz Crystal has been know for centuries to restore balance in the body, rid away negativity, and improve intuition.

These earrings are packaged in an earring card and a pretty white sheer pouch.

All materials including wrapping and wires are the same as the metal option you choose.

Sterling Silver
14k gold filled
14k Rose gold filled

—Hypoallergenic—
Gold plated
Rose gold plated
Silver plated


⭐️Note- the best attempt is made in selecting crystals that are similar in size, shape, and length etc. However, due to the nature of the Crystal's cut, not two will be exactly the same nor perfect in shape and size.


***** CopyRight Images******
Infringement strongly monitored
All violators will be prosecuted

Simple, Dainty, Delicate, yet so Elegant and Romantic. The picture does not do its justice the piece is so much prettier in person.

Draw in romance with this simple yet elegant, soft, dainty design adds a subtle beauty to your outfit and brings out your skin tone with a sense of femininity with its simplistic elegance.

💜 All jewelry is beautifully wrapped in an eco friendly box or a cheer pouch.

💜 Please note that all jewelry is handmade and may vary slightly, as they are not machine made and represent uniqueness and special aesthetic to the piece. This adds to the beautiful one of a kind creations that you will wear or gift as a present!

💙The best efforts have been made to take photos representing the true colors of the item, however colors may vary slightly due to different screen settings and devices.

💙ALL PHOTOS TAKEN IN NATURAL LIGHTING💙👍🏼

💜 Sterling Silver
It suits all skin tones and is hypoallergenic. Sterling silver is .925 silver with a .075 copper additive. It is an affordable version of pure silver. Sterling silver is suitable for people with sensitive skin.  Being real silver it will tarnish in humid conditions but it can be cleaned to restore it back to its original quality. It is best suited to those who do not live in a humid climate and who take their jewellery off before showering.

💜 14K GOLD FILL

Most high quality gold-filled pieces have the same appearance as high carat gold, even with daily wear, can last 10 to 30 years though the layer of gold will eventually wear off exposing the metal underneath which is sterling silver. The layer of gold on gold-filled items is 5 to 10 times thicker than that produced by regular gold plating, and 15 to 25 times thicker than that produced by gold electroplate.

❤️ How to care for your jewelry?

Some pieces are dainty and delicate so please do not shower, swim or sleep in your jewelry.

1. Don't use abrasive cleaners on your jewelry.

2. Don't lather your jewelry with lotion or cream when you put on your moisturizer.

3. Don't use the sauna, spa, steam room or do hot yoga with your jewelry.

14k Gold Filled is a great alternative to precious solid gold. If you take good care, it will last you a life time. It will not chip or flake like gold plated but please keep it away from chemicals like chlorine, bleach, perfume etc. these might damage it beyond repair. Always put it on last and take it off first.

4. Keep all jewelry in proper containers. Gemstones have varying hardness and harder ones might scratch softer stones.

5. Following these steps will keep your jewelry looking shiny, nice, and long lasting.

Thank you for shopping and enjoy!
❤️ Made with love from the beach to you!