Product description
Swaging Tool Drill Bit Set With 1/4" 3/8" 1/2" 5/8" 3/4" 7/8" Bits For Soft Copper & Aluminum Tubing Features: The full range of  Swaging Tools to make it easier to expand HVAC tubing. Preserves copper/aluminum malleability while doing the swaging, avoiding cracks and leakages. 6 Pieces Set with the most common HVAC tubing diameters: 1/4" 3/8" 1/2" 5/8" 3/4" 7/8" Works for both hard and soft copper Standardized, easy to braze swages in one set. The swage stopper will provide great swage depth for a perfect fitting. Drill Minimum Requirements The tools are designed to work along with drills and/ or screwdrivers, with minimum of 1,800 RPM and 500 watts for corded drills, or superior and 1,800RPM and 18V, or superior, for cordless drills. Using the tools along with less powerful equipment may result in high decrease of performance.
With 1/4" 3/8" 1/2" 5/8" 3/4" 7/8" Bits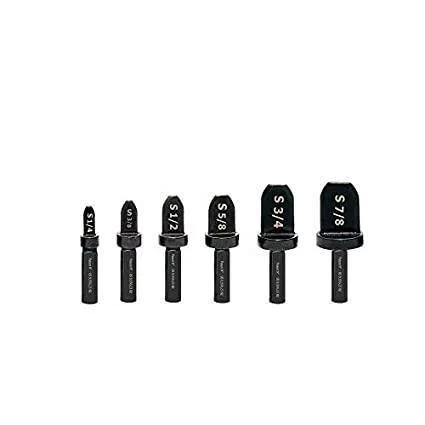 Multi size: 6 different sizes per set of your choice to meet your needs.

Material: Made of bearing steel. It has high and uniform hardness and wear resistance, and high elastic limit, your good helper for work and life.

Precision: The flares will always have the same size and will fit perfectly; The swages present a perfect depth and a tight fitting, that will make the brazing easier, reducing the fatigue stress over the coupling area.

Perfect Forging Depth: A full range of forging tools makes it easy to expand HVAC tubing, the forging plug will provide a large exchange depth for a perfect fit.

Function and easy to install: When the air conditioner is installed, expand the copper tube, make two mutual copper tubes. (To be installed in manual electric drill). Ideal for installers, it doesn't matter if you are learning or have been doing it.
Heat by Friction
Fits into any Drill*
10X faster
Avoid Cracks and Leaks
410a Compatible
HVAC Ready